BOB Fest has Arrived!!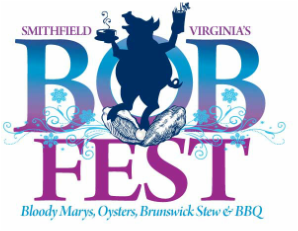 The 2016 BOB Fest Is THIS Weekend! January is usually a time of post-holiday slumber, but historic Smithfield Virginia has turned that slumber into a rockin' party with the Smithfield BOB Fest – Bloody Mary's, Oysters, Brunswick Stew, BBQ… and more!
Held annually on the Saturday of Martin Luther King weekend, BOB Fest is held on the Pagan River in Windsor Castle Park located directly across from Smithfield Station in a 30,000 sq ft HEATED tent, and features delicious drinks, food, and rocking live entertainment from Hampton Roads premiere 80's cover band The Deloreans.
Plan to check-in to Smithfield Station a night early and enjoy the river views, spacious rooms with fireplaces, and make walking to the event a breeze without the hassle of parking or waiting in traffic. For those who want to start their fun earlier in the day, there is the 8K BOB Chilly Road Race at 9 am. (sold out for 2016) BOB Fest starts at noon (VIP ticket holders get early admission at 11:00), and goes until 4 pm. …Which is perfect timing, allowing visitors to head to The Restaurant at Smithfield Station for dinner.
Guests of the event will enjoy great regional food, live music, and friends in a 30,000 square foot heated tent. Take advantage of the wonderful selection of food, especially the fresh oysters from Johnson and Son Seafood in Eclipse (link to blog). There is just something about fresh oysters from the bay surrounded by good friends and great music. The Deloreans always put on quite a show, with music that can be heard throughout the event. There is even plenty of room to dance if the urge strikes you.
After the event, having your fill of oysters and beverages, we welcome you to keep the party rolling at the IBX Bar at Smithfield Station. The party inevitably leads to a great group gathering there to grab a great steak, some fresh seafood, or the very impressive baby back ribs.
Make no mistake about this first class event, it's a ton of fun and one people look forward to all year!  This event also sells out the hotel, so call the front desk today to check availability by calling (757) 357-7700.